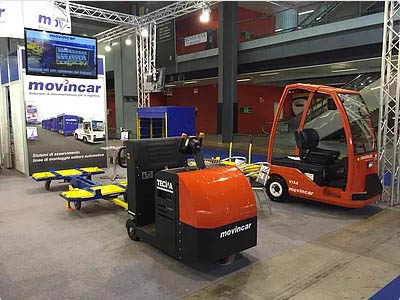 TECNACAR and its distributor for Italy MOVINCAR, have had a great success during the recent fair INTRALOGISTICA Milan organized by CeMAT.
At show, the Italian leading company for material handling solutions, MOVINCAR, have exhibited their latest innovative products and logistics solutions together with TECNACAR.
The high technology of TECNACAR tow tractors series, combined with the most advanced solutions which developed by MOVINCAR for the complete automation of loading and transportation in the major industries. They are considered as the most efficient solution for horizontal transports. The reason is the following: the trailers convoys include electro-hydraulic systems, allowing the automatized loading and unloading, be with or without driver in AGV Mode.
At CeMAT, customers could easily check this advanced technology working, combined with electro-hydraulic MOVINCAR Trailers, all connected to the TECNA Tow tractors (VTA7 and VTA25, with 7t and 25 tons towing capacities.) At the same time, all the new range of new VTA3/VTA4/VTA5 (3/4/5tons respectively) tow tractors have been presented.
Thanks to these new models, the VTA Family is now fully completed, offering the side battery extraction system on all TECNACAR Products. Furthermore, all VTA can be equipped with AGV Pre Installation system (Automatic guided vehicles).
All our Tow tractors as well as Trailers and special convoys solutions, are available from our network of distributors inside TECNACAR Sales organization.