ABOUT US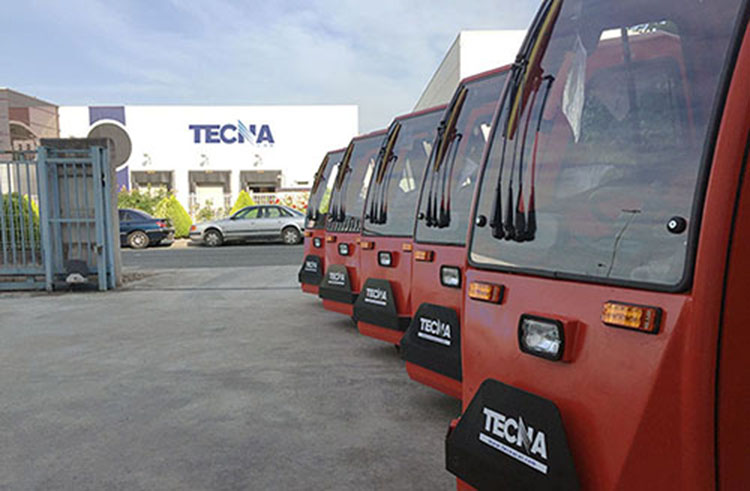 ASIA TECNA is one of the worldwide affiliates and subsidiaries of Tecnacar Group. We are proudly that TECNA's (Tecnacar) marketing department assigned and authorized ASIA TECNA Intralogistics Ltd as Asia-Pacific (ASEAN) representative office for the sole rights to appoint contractual dealers and conduct commercial sales & marketing activities of Tecnacar products within ASEAN region.
ASIA TECNA Intralogistics Ltd is committed with 20 years professional works and solid experience to provide with the most practical, high quality and excellent intralogistics and material handling equipment and service. Our engineers and technical people are both capable to offer outstanding service and well trained by the Spanish original factory and ASIA TECNA's internal education.
Tecnacar is one of the global leaders of intralogistics equipment and insists on innovative breakthroughs in the field of both indoor and outdoor logistics and material handling equipment. The creator of Tecnacar, Mr. José Luis Évora, is technical specialist engineer in automotive and industrial machinery for more than 40 years. For 30 years, he rapidly marketed international brands (BT, Linde, Clark, Yale, Steinbock, Nissan, etc.) in Spain and offered their distribution in Navarra. Mr. Évora his expertise dedicated to create and develop the handling sector of horizontal and lifting transport in manufacturing patented AC tow tractors based on the electronic technology of Flux Vector Control system, and successfully market them in continental Europe, Latin American, Africa and global distribution.
Technacar patented tow tractor has developed until now a range from 3 to 40 Tons. All Tecnacar vehicles come with or without AGV (Automatic Guide Vehicle) pre-installation as standard and, taking advantage of their own TECNA software technology, provides this system with an enormous advantage of adapting to magnetic, laser or filter tape configuration controls, logistics solutions with control in hydraulic and electric trailers. Tecnacar's logistics solutions have become the preferred electric tow tractor supplier for large automotive companies and global manufactures, train station logistics, hospitals and aerospace sector (aircraft, helicopters and military transports). The transportation also can provide corresponding solutions for both indoors and outdoors between the trailer factory personnel, the production line, and the materials.

DISTRIBUTION
On the behalf of TECNACAR, we are expanding our service and seeking new dealers in the Asia-Pacific (ASEAN) countries. The partners receive the information, documentation and training for the knowledge of TECNA products, either from the commercial perspective or technical support, after sales and spare parts.
For the companies who eager to have highly advanced technology products and wish to become our dealer, we welcome you to consult and contact us at all time.Back